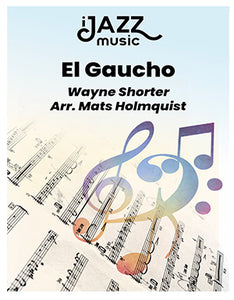 Composer
Arranger
Style
Modern Jazz with a Samba feel
Ranges
Description
As recorded by Mats Holmquist & Dave Liebman Big Band on the album "A tribute to Wayne Shorter" (Summit/MAMA Records).
Soprano sax feature with solos for soprano and alto 1. As very often in Shorter's compositions El Gaucho has a very creative form and chord progression. Holmquist's arrangement clearly demonstrates his minimalist influence with lots of "canonic" entrances.
The chart contains his first ever rhythm section soli which has become a "standard feature" on his subsequent albums. Here is a chance for the rhythm section to shine in slightly virtuoso lines with a hint of humour. There are also some quite developed and unusual backgrounds in a minimalist manner. A very fun and creative chart!
"The finest tribute to Wayne Shorter on the market today! 5 *****" Brent Black, Criticaljazz.com
"Mats Holmquist is one of the jazz world's finest composers and arrangers." Ric Bang - JazzScan
Instrumentation
Big Band (5/5/4/4)
Additional Info
Solo Soprano (D. Liebman) and opt. solo parts for trpt./flghn., alto, tenor and trombone.