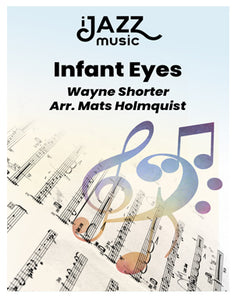 Composer
Arranger
Ranges
Description
As recorded by Mats Holmquist Mats Holmquist & Dave Liebman Big Band on the album "A tribute to Wayne Shorter" (Summit/MAMA Records).
Soprano sax feature (opt. solo parts for alto sax, tenor sax, trpt./flghn. and trombone).
A beautiful, classic ballad by Wayne Shorter arranged for big band with extensive use of woodwinds and flugelhorns. Minimalist style, wavy sounds and tight complex voicings. Solos for soprano and piano. Modulation into the first out of two "interludes". A perfect showcase for your "ballad soloist". Beautiful music.
"The finest tribute to Wayne Shorter on the market today! 5*****" 


Brent Black, Criticaljazz.com
"Mats Holmquist is one of the jazz world's finest composers and arrangers."
Ric Bang - JazzScan
Instrumentation
Big Band (5/5/4/4)
Additional Info
Solo Soprano* (D. Liebman) and opt. solo parts for trpt./flghn., alto, tenor and trombone, Flute 1-2, Clarinet 1-2, Bari, Flugelhorns.