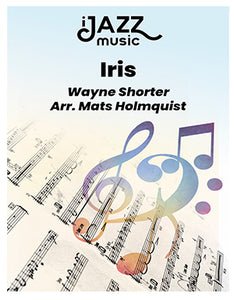 Composer
Arranger
Ranges
Description
As recorded by Mats Holmquist Mats Holmquist & Dave Liebman Big Band on the album "A tribute to Wayne Shorter" (Summit/MAMA Records).
Soprano sax feature with solos for soprano, bass and 1st trombone. After an extensive and unusual intro the short, beautiful theme (16 bars) is varied and presented three times in the beginning and three times at the end. This is a technique Holmquist also uses in his arrangement of Herbie Hancock's Jessica (which also is only 16 bars long).There is extensive use of woodwinds, muted brass and flugelhorns in creative combinations. Considering that this is a ballad the sax soli is an unusual feature. Another unusual feature is the way that Holmquist writes his backgrounds, partly in a 2 against 3 rhythm. A great and very beautiful composition by Shorter in a very creative arrangement by Holmquist.
"The finest tribute to Wayne Shorter on the market today! 5 *****" Brent Black, Criticaljazz.com
"Mats Holmquist is one of the jazz world's finest composers and arrangers." Ric Bang - JazzScan
Instrumentation
Big Band (5/5/4/4)
Additional Info
Solo Soprano (D. Liebman) and opt. solo parts for trpt./flghn., alto, tenor and trombone, Soprano1/Flute 1, Alto 2/Flute 2, Tenor 1/Flute 3, Tenor 2/Clarinet 1, Bari/Clarinet 2.