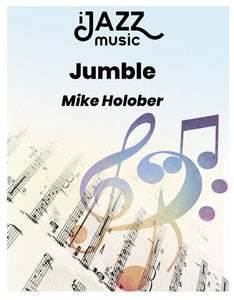 Composer
Style
Maracatú/ 70s Fusion

Ranges
Trumpet: G6, Trombone: Bb4
Description
Extended form. Solos for Rhodes, alto, guitar duo with drums that rocks out.Alternate alto 2 and tenor 2 parts moves solo from alto to tenor.Challenging ensembles but fairly easy blowing changes. Challenging piano part. From the GRAMMY© nominated recording "Hiding Out" Mike Holober & The Gotham Jazz Orchestra.
Instrumentation
Standard Big Band (5/4/4/4)
Additional Info
Alto 1/Flute/Soprano; Alto 2/Soprano; Tenor 1/Clarinet; Bari Sax/Bass Clarinet; Percussion (1 player) – cajón/Cowbell/Shaker (no percussion part but recommended to add); Piano/Rhodes.