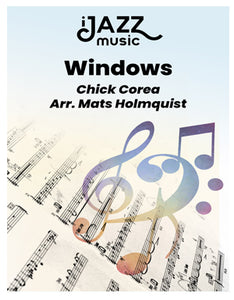 Composer
Arranger
Ranges
Description
As recorded by Mats Holmquist Big Bad Band (Caprice Records 2003).
Windows is one of Chick's greatest classics from the 60's. This arrangements features trumpet 5 and piano with solos and melody presentation for both. Holmquist creates a wavy, smooth character in tenors and flugelhorns and switches from 3/4 to 4/4 from time to time. Big exciting tutti in the middle and unusual, complex voicings at the close of each theme presentation. A perfect opener at, f.ex. a "Tribute to Chick Corea" concert.
"However it is Holmquist's inventive arrangements, which are a logical extension of Corea's original performances, that are the real stars. Recommended." 

****1/2 Scott Yanow, Allmusic.com 


…."For those who appreciate Chick Corea and admire superlative big bands, it doesn't get much better than this."
Jack Bowers, AllAboutJazz
"Mats Holmquist is one of the jazz world's finest composers and arrangers."
Ric Bang, JazzScan

Instrumentation
Standard Big Band (5/5/4/4)
Additional Info
Soprano 1/Flute, Soprano 2, Flugelhorns